[LeapFive technology's first risc-v offline activity in 2020] risc-v open source chip technology application seminar
Activity date:2020.09.01-2020.09.027
After more than half a year's waiting, LeapFive technology's first risc-v offline activity in 2020 has finally kicked off. This year's activity will take the lead from Shunde, South China. With the development of high-end intelligent technology, there is a huge demand for chips in the manufacturing industry which is facing the upgrading of high-end intelligent manufacturing. The advantages of risc-v instruction, such as simplification, modularization and scalability, are very suitable for accelerating the process of chip industrialization, scale-up and localization in South China, creating an integrated ecological environment for coordinated development of "industry, University, research and application", and promoting the development of independent innovation ability of local "China chip".
In the aiot era, both x86 and arm architectures are unable to meet the challenges of low cost and low power consumption of fragmented IOT devices. In the aiot era, most IOT devices need to be equipped with the next generation MCU chips to realize complex tasks such as sensing, communication, information processing, computing, and issuing control instructions. AI capability and cloud access capability are the biggest differences between the next generation MCU chip and the traditional MCU chip. Risc-v is scalable and customizable, which is very important for aiot chips with different scene driven and power requirements. Risc-v is the foundation of open-source chips. Open source chips need the joint promotion of ecological partners and the cooperation of the whole society.
In this context, risc-v is of great significance to the development of chip industry in China. Therefore, Shanghai StarFive science and Technology Co., Ltd., together with Foshan Shunde science and Technology Bureau and Guangdong LeapFive Technology Co., Ltd., jointly held the event, focusing on the development and application of risc-v open-source chip technology with the theme of "smart gathering Shunde, core development", aiming to bring a RISC to the participants in the form of Summit Forum, technical speech, question and answer exchange and ecological display -V's new experience.
Guidance unit
Shunde District People's Government of Foshan City
Organizer
Science and Technology Bureau of Shunde District, Foshan City
Shanghai StarFive Technology Co., Ltd
Guangdong LeapFive Technology Co., Ltd
Co Organizer
Shenzhen shunchuang industrial accelerator Service Co., Ltd
Activity time
Wednesday, July 15, 2020
Venue
Foshan Shunde New World Hotel
150 Qinghui Road, Daliang town
会议议程
时间
主题
演讲人
资料下载
09:10–09:50
签到
09:50–09:55
开场致词、嘉宾介绍
09:55–10:00
顺德区领导致辞
10:00–10:10
揭牌仪式
10:10–10:35
半导体全球产业链与中国机遇
谢志峰
 资料
10:35–11:05
RISC-V的发展机遇
徐滔
资料
11:05–11:25
基于 RISC-V 的 Fedora 系统开发
傅炜
 资料
11:25–11:45
RISC-V生态与智能家居
江朝晖
 资料
11:45–12:05
构建开源芯片生态的四要素
余子濠
 资料
12:05–13:25
午餐&产品展示
13:25–13:30
开场介绍
13:30–14:00
开源芯片定制—"垂直领域芯片技术"赋能家电产品智能化升级
胡健
 资料
14:00–14:30
赛昉科技引领中国RISC-V处理器技术发展和创新
周杰
14:30–15:00
RISC-V软件生态的发展及现状
赵向伟
 资料
15:00–15:20
茶歇&产品展示
15:20–15:50
发挥专业开发工具的最大效能
盛磊
 资料
15:50–16:20
TRACE32Ⓡ工具的RISC-V调试和跟踪方案
刘栋
 资料
16:20-16:50
赛昉"满天芯"计划助力RISC-V芯片产业发展——免费内核S1000快速上手
胡进
 资料
Speech and exhibition enterprises (regardless of rank)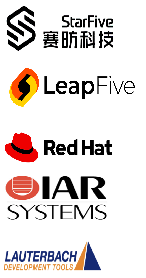 It took only a decade for the Berkeley team to develop a new open source instruction set architecture (risc-v) to its global popularity. Risc-v is just like a seed. It can take root and germinate rapidly as long as there is suitable soil. Saifang technology is willing to be a seeder and protect risc-v from growing vigorously。